Club Excellence Award
---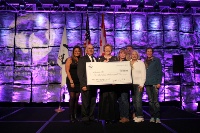 Annual awards are presented in the following categories:
Breed Promotion/Community Involvement

Membership Recruitment/Retention
Club Projects
Has your club organized and participated in activities that deserve special recognition for promoting the breed and AHA? Submit your activity entries by August 15. A panel of judges will evaluate all entries and awards will be presented at the President's Banquet at the annual Convention.
The winning club in each category receives $500.00. The Club of the Year award will be selected from those clubs that were placed in the top five of a minimum of 2 of the 3 categories, and an additional $500.00 award is presented for that honor. For official rules see Chapter 22 in your AHA Handbook.
---
Club Excellence Award Winners
Click here for the 2020 Club Excellence Award Winners
Click here for the 2019 Club Excellence Award Winners
Click here for the 2018 Club Excellence Award Winners
Click here for the 2017 Club Excellence Award Winners
Click here for the 2016 Club Excellence Award Winners
Click here for the 2015 Club Excellence Award Winners
Click here for the 2014 Club Excellence Award Winners
Click here for the 2013 Club Excellence Award Winners
Click here for the 2012 Club Excellence Award Winners
Click here for the 2011 Club Excellence Award Winners