Hi guys, I have a lot to fill you in on as the AHYA board has recently come back from our March meeting at AHA headquarters in Denver, Colorado.

To start off, the majority of the board flew in on Thursday and toured Denver on Friday. Unfortunately I missed out because of school; however, I heard it was a ton of fun! By Friday night the whole board was in the hotel and so we met for dinner and hung out for a while.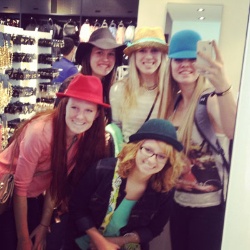 Clockwise from black hat: Morgan, Brooke, Sydney, Klaire, and Nicole
enjoying some downtown Denver shopping on Friday!
Saturday and Sunday were devoted to meetings where we talked about what was going on in each region, fundraising ideas, and most importantly what we were going to do to make Youth Nationals another amazing show this year. The activities for Youth Nationals this year will be Flying Pigs, the Welcome Party, Parade of Regions, Stick Horse Contest, Ice Cream Social, Hippology Contest, Dog Race, Get Flocked, Road Apple Rumble, Judging Contest, and of course CONVENTION! They're all going to be really fun so get excited!

Likewise, our theme for Youth Nationals is "Root for the Home Team," so everyone get out your sports jerseys and other things that can tell the country what makes your region so special.

We also came to a great decision of adopting a charity for the Youth to support, and this charity will be the Make-A-Wish Foundation. This means that some of the proceeds for most activities you all participate in at Youth Nationals will go to this foundation to help a child in need.

Each committee talked about how to make our industry better, so stay tuned for those updates during Convention at Youth Nationals.

When we weren't in session we had lunch with our adult counterparts on the AHA board. Our President and Vice President, Cynthia and Nancy, even sat in on our meetings to help us. We truly have an amazingly supportive team.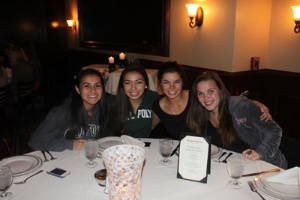 Tori, Me, Hannah, and Katie at dinner Saturday night!
We're always talking about how to keep you guys out there involved so please, please, please check us out on all our social media! Post things to our Facebook, tag us on Instagram, and of course feel free to email any one of us for questions, concerns, and ideas!

I can't stress enough how happy I am with this year's Board of Directors. Everyone is working very hard to make our industry even better!

Until next time,

~ Camille Waechter
AHYA President