Anyone Can Dream, Anyone Can Win...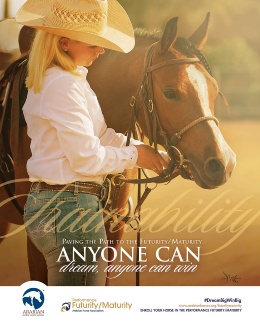 Arabian and Half-Arabian/Anglo-Arabians can compete in Futurity/Maturity/Derby classes at the U.S. Nationals. These classes feature the best of the breed's young athletes, some of these young horses are sold before they even leave the arena. A wonderful marketplace to showcase the best and brightest that the industry offers.


REMEMBER
There are 3 parts to participate in the Performance Futurity/Maturity classes at U.S. Nationals:
Enrollment into the Performance Futurity/Maturity/Derby Program
Entry into the corresponding Performance Futurity/Maturity/Derby class at U.S. Nationals
All Half-Arabians competing in the Futurity/Maturit/Derby Classes must have parentage DNA verified to a purebred Arabian parent on file at the AHA office before they are allowed to compete.
Owners wishing to compete in this program must enroll in the program either by making payments or one lump sum.

If enrollment is made in payments, the due dates are:
June 1st
July 1st
August 1st

Late fees apply for any missed due dates.

Enrollment may also be submitted after the deadline all the way up to the final close of U.S. National Entries in Tulsa. (Late fees will apply.)

Class intent must be declared at the time of enrollment into the program (Example: I intend to compete in the Western Pleasure Maturity AAOTR).

If you determine at a later date that your horse is better suited to another discipline, you may change the class intent with a class change fee. (Example: I signed up for Western but it turns out my horse is better suited for Hunter).

In addition to the program enrollment, you must enter into the Performance Futurity/Maturity/Derby Class at U.S. Nationals on an official entry form or online at the AHA website by the date of entry close. If you do not enter the show or program, a late fee(s) will be assessed.
NEW for 2020!

Arabian and Half-Arabian/Anglo Arabian Cutting Futurity has been discontinued at U.S. Nationals.

Arabian and Half-Arabian/Anglo Arabian Herd Work Classes have been added to U.S. Nationals. This class is for horses that are 6 years of age and under. The enrollment fee is $740 if paid by June 1, 2020 if paid in full (or by June 1, July 1 and August 1 if enrollment is being made with payments).
Note: Horses cannot be shown under the two distinct non family co-owner rule in Maturity AAO classes per USEF AR110