Anyone Can Dream, Anyone Can Win...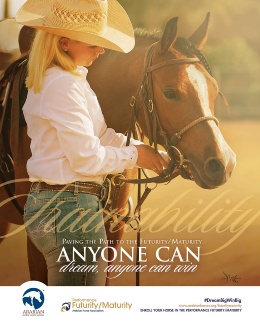 Arabian and Half-Arabian/Anglo-Arabians can compete in Futurity/Maturity/Derby classes at the U.S. Nationals. These classes feature the best of the breed's young athletes, some of these young horses are sold before they even leave the arena. A wonderful marketplace to showcase the best and brightest that the industry offers.


NEW for 2019!

Arabian and Half-Arabian/Anglo Arabian Cutting Futurity enrollment has been reduced from $1,040 to $740 if paid by June 1, 2019 if paid in full (or by June 1, July 1 and August 1 if enrollment is being made with payments).
Note: Horses cannot be shown under the two distinct non family co-owner rule in Maturity AAO classes per USEF AR110