Paving the Path...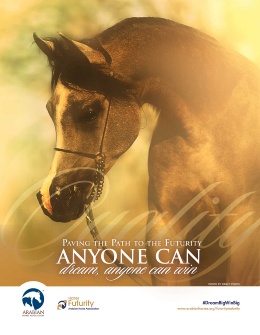 ...before a National audience in the most economical breeding program around -- Halter Futurity. For only $70 per
horse/per country you can enroll an in-utero foal and renew each year for $35 per horse/per country. Three-year-olds may be presented at Canadian and/or U.S. Nationals to enthusiastic fans eager to see what horses and what breeding programs are truly the best.
Futurity horses have more market value
Bring attention to your breeding program
Attract new buyers
2021 Canadian Halter Futurity Classes
Due to the postponement of the 2021 Canadian National Show, the Canadian Halter Futurity Classes will be held at the 2021 US National Championship Show. These will be held as separate class and will adjudicated by separate panel of judges from the U.S. Halter Futurity Classes.
With the border restrictions and Covid-19 related issues, Canadian residents who are unable to participate in the Halter Futurity Classes at the 2021 U.S. National Championship Show can request a refund for the program. Refunds will be issued only upon written request and only if the horse is current in the program and eligible to show in 2021. A refund (minus the $40 processing fee) will be issued for the US and/or Canadian enrollments for Canadian residents only. The amount of the refund will depend on the amount that was paid in by the current recorded owner of the horse. A written request for a refund must be received in the AHA office by Wednesday, October 20, 2021 and can be sent to Cheryl.Holloway@arabianhorses.org.