Overview: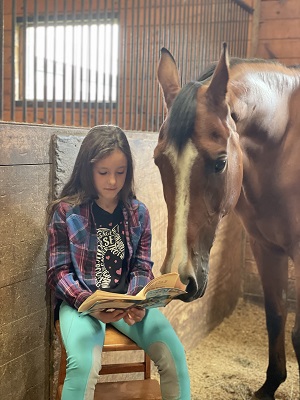 Our literacy program aims to ignite a passion and a spark for reading, with a special twist - HORSES. Children who struggle to find fun in reading by themselves can find that special spark by reading to a horse. In our program, the children will be invited to visit an Arabian horse farm, and read to, and with horses. In addition to the literacy piece, the children will learn more about horses in a safe, controlled environment and spend some time with the oldest and most magical breed, an Arabian horse.
Action Steps:
Reach out to your local school or after school programs and see if there is any interest in a lucky listener program. You can use the sample Intro Letter to see what interest there might be.
Once a school or teacher agree to participate create your plan

Set a date for the class to come out to your farm and meet an Arabian Horse
Set what goals will have to be reached each week to be able to read to a live horse

The teacher and youth choose a book or books that are age appropriate (can reference our suggested book list)
Each child is given an AHA Lucky Listener Chart to complete.

This could be number of pages read, number of books read, reading daily, reading a set amount of time, etc. Those details can be worked out by the class teacher and monitored by the teacher.
The teacher would then stamp the card with a horseshoe stamp for each day, number of pages, books, etc. that the child reads aloud to the poster.

At the end of the Week/Month/Quarter/Semester if the child has completed their AHA Lucky Listener chart goals in class, they are invited to come to the Discovery Farm on a field trip to see their Lucky Listener Arabian, read to them, and learn more about the Discovery Farm.
At the end of the Semester/School Year the Discovery Farm hosts a Meet an Arabian Horse event for the class and/or the class and their families.
Tools and Resources:
Horse Poster Template
Link to Horse shoe stamp (could be available through AHA)