How Can You Get Involved?
If you've never encountered an Arabian horse up close, start your adventure by visiting a Discovery Farm. This unique program offers you the opportunity to explore Arabian horses at farms where knowledgeable owners are delighted to introduce you to their horses and answer questions in a relaxed, no-pressure, non-sales atmosphere. You'll learn all about the breed characteristics, and gain first hand knowledge of what makes this breed truly special. There are hundreds of Discovery Farms across the country and you can easily locate several near you.
Sign Up For Our Get Local Newsletter!
Become a Discovery Farm
If you own Arabian horses and want to share your passion for the Arabian breed with newcomers, sign up to become a Discovery Farm and share your knowledge about the Arabian horse with interested visitors of all ages and equine backgrounds. AHA will assist you by providing promotional literature to help promote the breed to your farm visitors. The only requirement to become a discovery farm is an active AHA membership and a willingness to introduce newcomers to your Arabian horses.
Email DiscoveryFarm@arabianhorses.org with any questions. We always love to hear from our Farms!

We want to help you share the Arabian horse with your community. To help you we will provide:
A listing of your farm on our Get Local Map
Promotional Materials to help educate visitors about the Arabian horse
Discovery Farm Packet - The packet contains tips on how to be a successful Discovery Farm.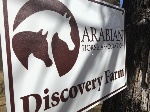 Discovery Farm Sign - Want to show your Discovery Farm pride? Show it with a FREE sign! You can hang this at your barn, on the road or a million of other places to show the world where they can come to discover the Arabian horse. If you would like a sign, email DiscoveryFarm@arabianhorses.org with your mailing address.